Discover a New Secret To Learn How To Play the Piano Like a Professional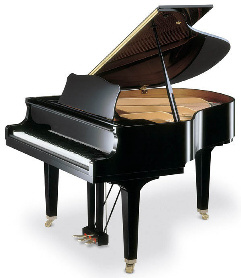 ...Using a Visual Learning System That's Fun, Fast and Easy!"
No Traditional Piano Lessons With a Teacher

No Previous Piano Instruction Necessary

Learn At Your Own Pace
From: Greg Lee Wednesday 9:06 AM
Read this to learn how to go where you are to playing and sounding like a professional without years of traditional piano lessons!
Are you an adult that took piano lessons as a child? Maybe you've taken piano lessons as an adult or you're like me. I took piano lessons as a child and as an adult.
With all of those piano lessons, I must have learned enough to be a pretty skilled player...right?
Wrong!
To be honest with you, my parents made me quit because of that age old reason kids stop taking piano lessons....I wouldn't practice. My parents were at the end of their rope making me sit down for 30 minutes a day. I still remember waiting for the kitchen timer on our old upright piano to "grant me parole".
But I never lost my love of the instrument and my desire to play...really play and sound like a professional!
So after years of not even touching a piano or keyboard, I found a teacher and started taking traditional piano lessons again. It wasn't too much like starting from scratch.
After all, I knew the notes on the keyboard. I could read music at some level. But it wasn't long until I remembered why I became frustrated and disinterested when I was a kid.